Arkansas Mosquito Control
Professional Mosquito Exterminators Serving Arkansas Homes & Businesses
Are you tired of mosquitoes taking over your yard, ruining summertime barbeques, and leaving you covered with itchy bites? McCauley Services has the guaranteed best solution for your mosquito problem. Established in 1983, our pest control company has been one of the most trusted teams around for the last four decades. Each of our exterminators has undergone extensive training and received a QualityPro certification, so you can rest easy knowing your home or business is in the hands of the most qualified pest control professionals.
When you turn to us for mosquito control in Arkansas, you can expect us to provide swift, effective treatment, so you can enjoy a pest-free yard once again. Take a look at what our clients have to say and see why we are Arkansas's most trusted mosquito control company!
---
Contact our team online or call (888) 733-9229 to request an initial estimate for residential or commercial control.
---
Mosquito FAQ
Are mosquitoes dangerous?
Mosquitoes bite humans in order to consume their blood. This can cause very itchy, swollen, red bites that are typically nothing more than a nuisance. However, while mosquito bites are most often just irritating, they can also sometimes be quite harmful. Mosquitoes are known to carry and transmit diseases such as malaria, West Nile virus, dengue fever, yellow fever, Zika virus, and more.
That doesn't mean that you should run to the doctor every time you are bitten by a mosquito. You should contact a medical professional if you experience headache, fever, aches, or rashes after receiving a mosquito bite.
What are mosquito misting systems? Do they really work?
Mosquito misting systems are devices that are designed to control mosquito populations by spraying a fine mist of insecticide into the air, which kills mosquitoes on contact. Having a mosquito misting system installed by McCauley Services can be very effective in reducing mosquito populations and minimizing the risk of mosquito-borne illnesses, such as West Nile virus and Zika virus. However, it's important to note that mosquito misting systems are not a complete solution to mosquito control. They should be used in conjunction with other mosquito control methods, such as removing standing water from the area, using mosquito repellent when outdoors, and keeping up with a general pest control program.
Is it true that mosquitoes bite some people more than others?
Yes, it is true that mosquitoes bite some people more than others. There are several factors that contribute to this, including:
Blood type: Some studies suggest that people with Type O blood are more attractive to mosquitoes than those with other blood types.
Carbon dioxide: Mosquitoes are attracted to the carbon dioxide we exhale, so people who exhale more carbon dioxide may be more attractive to mosquitoes.
Sweat: Mosquitoes are also attracted to the chemicals in our sweat, so people who produce more of certain chemicals may be more attractive to mosquitoes.
Diet: Studies have shown that mosquitoes are more likely to bite people who recently had spicy, salty, sweet, or potassium-filled foods. You may also be more likely to get bitten if you've recently drunk alcohol.
Skin bacteria: The bacteria that naturally live on our skin can also play a role in attracting mosquitoes. Some studies suggest that people with a certain combination of skin bacteria may be more attractive to mosquitoes.
Clothing: Wearing dark-colored clothing can also make a person more attractive to mosquitoes because the darker the color, the easier it is for the mosquito to see their target.
Overall, it is important to take steps to protect yourself from mosquito bites, such as wearing long sleeves and pants, using insect repellent, and avoiding being outside during peak mosquito activity times. It's also a good idea to contact a mosquito control company like McCauley Services to have your outdoor area professionally treated.
Explore Our Services

Pests We Eliminate
How to Prevent Mosquito Infestations
The key to preventing mosquitoes in your yard is to eliminate standing water. Mosquitoes love standing water because it makes for the perfect breeding ground. Even so much as a cup of water left out is enough to attract mosquitoes to a yard. Once you stop overwatering your garden and remove water from birdbaths, ponds, buckets, old tires, and gutters, you should see a reduction in the number of mosquitoes in your yard.
Additionally, to prevent mosquitoes, you should:
Plant mosquito-repelling plants such as lavender, citronella, and rosemary
Place mosquito lanterns around your yard
Keep your hedges, bushes, and grass trimmed
Schedule routine mosquito treatments
Preventing mosquitoes is quite difficult, which is why it is a good idea to bring in a team of trained professionals who know how to effectively reduce mosquito populations. At McCauley Services, we use EPA-registered products designed to target mosquito breeding sites while protecting you, your family, and your beloved pets.
Contact us online or call (888) 733-9229 for residential or commercial mosquito control services in Arkansas.
Suggested Reading:
Year-Round Protection Against Mosquitoes
At McCauley Services, we believe pest control is not just a one-time service. Each season brings new pests to your home, which means you need year-round protection. Our team has specially designed our pest protection programs to ensure your home gets the treatment it needs to remain pest-free all year long.
Below are our pest protection programs that can be customized based on the needs of your home:
Silver Service: This is a quarterly program that covers general pests within a 50-foot perimeter around your home.
Gold Service: This is a monthly program that covers general pests, mosquitoes, and ticks within a 50-foot perimeter around your home.
Platinum Service: This is a quarterly program that covers general pests and termites within a 100-foot perimeter around your home.
Platinum Plus Service: This is a monthly program that covers general pests, mosquitoes, ticks, and termites within a 100-foot perimeter around your home.
For year-round mosquito control in Arkansas, call (888) 733-9229.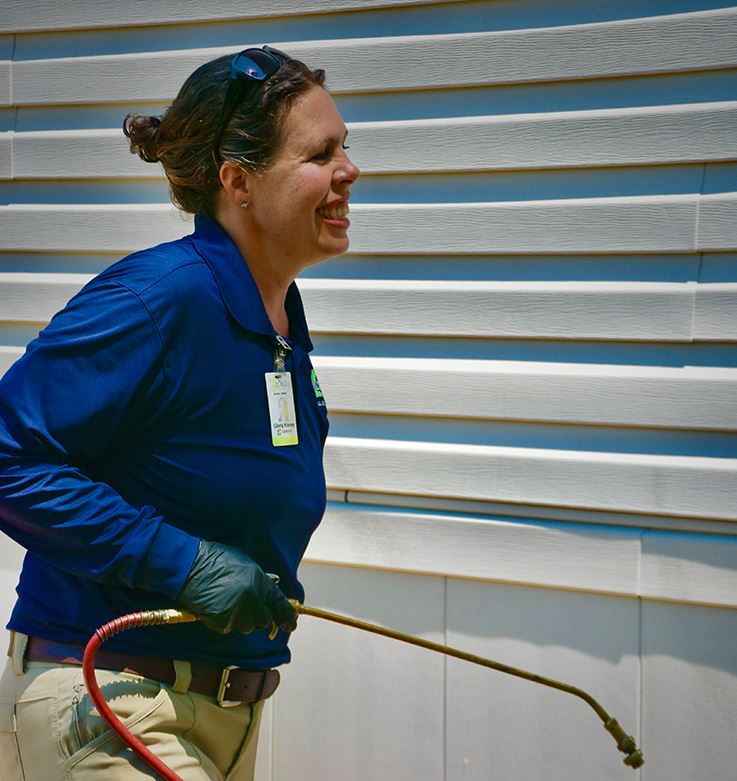 QualityPro Certified
Less than 3% of pest control companies in the U.S. have been awarded the prestigious QualityPro Certification. This certification is given to those who go above and beyond to adhere to the highest standards in professionalism and results in the pest control industry. These companies do whatever it takes to exceed the expectations of their customers and deliver the best possible service.
"We have used your company for all of our pest control needs and you always do a great job. Tim is an excellent employee and always smiling and glad to help us."

Elrod G.