Arkansas Ant Exterminators
Effective Ant Control for Homes & Businesses
Is there anything more frustrating than discovering a massive trail of ants? We don't think so either. At McCauley Services, our team provides the most reliable and effective ant control in Arkansas. With nearly 40 years of ant control experience, we have the tools, training, and expertise necessary to quickly identify and eliminate colonies of any size so you can take back control of your home or business.
---
Call (888) 733-9229 or contact us online to learn more about our ant control services.
---
Most Common Ants in Arkansas
In our decades of service experience, we have dealt with every type of pest imaginable. There are thousands of species of ants, but the most common types of ants we see in Arkansas are odorous house ants, carpenter ants, and fire ants.
Odorous ants are small black or brown ants that often emit a rotten coconut-like odor as they carry food back and forth to the rest of their colony.
Carpenter ants

are a species of wood-destroying ant that can cause extensive and costly property damage.

Fire ants are very aggressive, reddish-brown ants that are known to bite and sting anyone who disturbs their nest.
Can I Treat an Ant Infestation Myself?
Do-it-yourself projects can be loads of fun, but when it comes to handling an infestation, you should really reach out to a team of professionals. Ant colonies are sometimes made up of millions of ants, which means ant infestations can be incredibly difficult to treat. Not to mention that over-the-counter ant treatments often contain chemicals that can be quite harmful to people and pets.
Hiring professionals to take care of your infestation is the only way to ensure safe and effective treatment. Our trained Arkansas ant control experts know how to accurately identify and locate any ant colony and apply treatment at the source.
Watch Our Videos
Learn More About Us
Explore Our Services

Pests We Eliminate
How to Prevent Ants in Your Home
With over 12,000 species worldwide, ants are one of the most common pests. Homeowners everywhere have had to deal with their fair share of ant invasions, which can be quite difficult to prevent. The key to preventing an ant infestation is modifying the habitat around and within your home.
Ants are constantly on the hunt for shelter, water, and food. Homes with ground coverage (such as mulch, gravel, and rocks) around the foundation are commonly infested with ants because this coverage provides a perfect shelter for them. In addition, homes with moisture problems (such as an overwatered lawn or leaky roof) will attract ants.
Lastly, ants are always searching for a food source to feed their colonies. Homes with left out cat or dog food, ripe fruit, uncovered food, crumbs, or spilled sugary drinks, are also at risk of an ant infestation.
To prevent ants, you need to:
Eliminate moisture problems
Eliminate ground coverage around the foundation of your home
Store all food in airtight containers
Clean up spilled drinks or crumbs right away
Take your trash out regularly
Put away any uneaten dog or cat food
Year-Round Ant Protection
Your health and safety are our top priorities here at McCauley Services. Using top-quality, EPA-approved products, our licensed professionals provide effective, safe, and reliable ant control service in Arkansas. And, because pest control is never just a one-and-done type of service, our team provides year-round protection.
We have specially designed home protection plans that can be customized based on your home's needs. Our team also offers special pest protection programs for businesses in the foodservice, hospitality, education, office building, retail, healthcare, and multi-family housing industries.
Our plans include:
Silver Service: A monthly service that protects your home against general pests within a 50 ft. perimeter around your home.
Gold Service: A monthly service that protects your home against general pests, mosquitoes, and ticks within a 50 ft. perimeter around your home.
Platinum Service: A quarterly service that protects your home against general pests and termites within a 100 ft. perimeter around your home.
Platinum Plus Service: A monthly service that protects your home against general pests, mosquitoes, ticks, and termites within a 100 ft. perimeter around your home.
To sign up for one of our pest protection programs or learn more about how we can protect your home or business from ants, contact us online or call (888) 733-9229 today!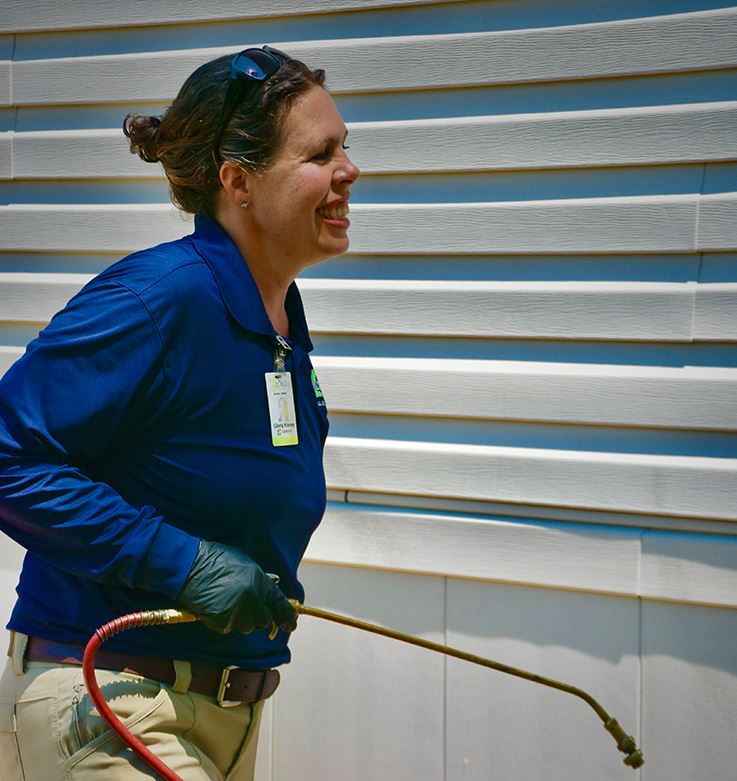 QualityPro Certified
Less than 3% of pest control companies in the U.S. have been awarded the prestigious QualityPro Certification. This certification is given to those who go above and beyond to adhere to the highest standards in professionalism and results in the pest control industry. These companies do whatever it takes to exceed the expectations of their customers and deliver the best possible service.
"They are always so professional and courteous."

Brent S.