Flea Removal Services in Arkansas
Committed to Top-Quality Pest Control
If you're a pet owner you already know what fleas are. These tiny insects prey on cats and dogs and cause your pet to scratch all the time. Fleas also feed on the blood of humans and other animals so even if you don't have pets you could end up with a flea infestation in your home. Unfortunately, adult fleas have the ability to live for months without food.
Contact McCauley Services today to find out how we can help provide Arkansas flea removal services.
Frequently Asked Questions
How do I get rid of fleas?
While you could attempt to get rid of these pests on your own, a better solution would be to contact McCauley Services. We offer effective flea control services that are far more effective than any product you might buy at the hardware store.
Can I do it myself?
If you're part of the DIY movement, you're thinking I can get rid of fleas on my own. Here's the thing, Do-it-yourself products are not always effective in resolving flea problems. And if used or mixed wrong, you could be creating a dangerous situation for you, your family, and pets. Our trained professionals know pests. They will relieve you of your flea problem using proven flea control measures.
Is the treatment safe?
Safety is important to McCauley Services. We use products and treatments that are EPA registered for pest control use. We only send out registered pest control technicians who are licensed by the state or local jurisdictions. This ensures proper application and protects our customers, their family, or employees.
How soon can you get here?
At McCauley Services we make every effort to be with you as soon as possible. In most cases, we can respond on the same or very next day.
How much do services cost?
At McCauley Services, we customize our contract to meet your needs and expectations. Our prices reflect that. When you contact our office, we can provide you with a general price range. For many pests, we recommend a free inspection. One of our representatives will investigate your concerns. We'll give you our recommendations for treatment and provide you with pricing information.
Why do I have a flea problem?
If you have pets then it is likely fleas entered your home on the back of your dog or cat. Fleas are also excellent jumpers, capable of jumping 6 inches straight up. They also come indoors on shoes and clothes so having pets is not a prerequisite for flea infestations. Once fleas find a host they will feed, mate and lay eggs in between the hairs of their host.
Are fleas dangerous?
Fleas are bothersome to both pets and people. Their bites may cause persistent itching. They also host tapeworm and have spread serious health conditions such as the plague and murine typhus. Furthermore, fleas can cause potentially fatal levels of anemia in very young kittens and puppies.
Explore Our Services

Pests We Eliminate
How do I prevent a flea problem?
First, we recommend contacting your vet if you are a pet owner. They will be able to help you find a flea (and tick) control product suitable for your pet(s). You should also vacuum often to take care of any pests your pet may carry inside. Pay close attention to dog beds and other spaces that your pets enjoy. Outside you may consider making your property less appealing to wildlife that could play host to fleas. Remove potential food sources (i.e. bird feeders, overripe fruit, and gardens, etc.). Consider erecting a barrier between woods and your lawn to keep animals from crossing over. You may also consider a year-round pest control program to keep your structure and property a pest-free zone. For homeowners, we recommend our Prescribed Home Protection Program. And for businesses fighting pests, our Prescribed Commercial Program offers superior protection.
To get started with a free estimate, call our flea removal experts in Arkansas at (888) 733-9229 today.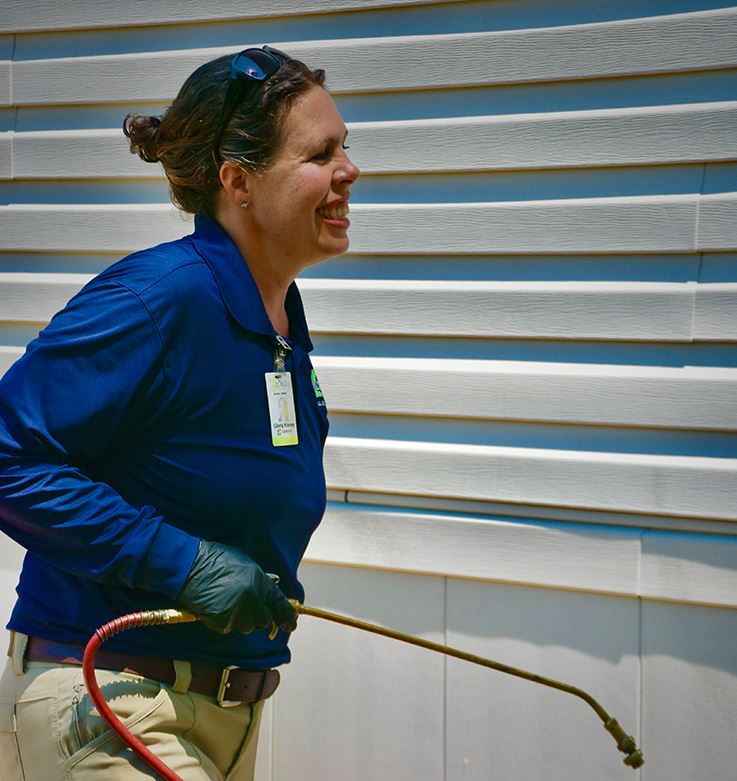 QualityPro Certified
Less than 3% of pest control companies in the U.S. have been awarded the prestigious QualityPro Certification. This certification is given to those who go above and beyond to adhere to the highest standards in professionalism and results in the pest control industry. These companies do whatever it takes to exceed the expectations of their customers and deliver the best possible service.
"I have been under contract for a number of years. I call and they come!"

Trish J.