Black Widow Exterminator in Arkansas
Professional Spider Control in Bryant, Farmington, Hot Springs, Broken Arrow & Surrounding Areas
If you're facing the unsettling presence of black widow spiders on your property, we understand your concerns and are here to help. With our expert team of professionals and years of experience, McCauley Services offers specialized black widow removal services that prioritize your safety and peace of mind. Our commitment to excellence, combined with our environmentally friendly approach, ensures that we can effectively address black widow infestations while minimizing any impact on the ecosystem. When it comes to dealing with black widows, trust McCauley Services to provide reliable solutions that eradicate these venomous spiders and restore a sense of security to your home or business.
Click here to request service online
What are Black Widows?
Black widows are venomous spiders belonging to the Latrodectus genus, and they are known for their distinctive appearance and potent neurotoxic venom. These spiders are found in various regions around the world, including North America, Europe, Asia, and Australia. The name "black widow" is commonly associated with the female of the species, which is known for its habit of occasionally consuming the male after mating.
Explore Our Services

Pests We Eliminate
Effective Black Widow Spider Removal Services
Black Widow Identification
The most recognizable feature of black widow spiders is their glossy black coloration. Adult females typically have a round abdomen with a red or orange hourglass-shaped marking on the underside, although the coloration can vary depending on the species and region. Males, on the other hand, are smaller and less venomous, with lighter coloration and less distinct markings.
Are Black Widows Dangerous?
Black widows are known for their potent venom, which they inject into their prey to immobilize and digest them. The venom contains neurotoxins that affect the nervous system, causing symptoms such as severe pain, muscle cramps, sweating, nausea, and in rare cases, more severe systemic effects. However, it's important to note that black widow bites are relatively uncommon, and fatalities are rare, especially with prompt medical treatment.
Where are Black Widows Typically Found?
In terms of habitat, black widows prefer dark and secluded areas such as woodpiles, crevices, sheds, and outdoor structures. They typically avoid human dwellings but can occasionally be found indoors in undisturbed areas like basements, garages, or crawl spaces.
What to Do if You Have a Black Widow Infestation
If you encounter a black widow or suspect a black widow infestation on your property, it is best to exercise caution and contact our Arkansas spider control experts for safe and effective removal. It's important to avoid handling black widows or attempting to eliminate them without proper knowledge and protective measures to prevent bites and ensure personal safety.
---
To schedule a visit from our top-rated pest control company, call us today at (888) 733-9229.
---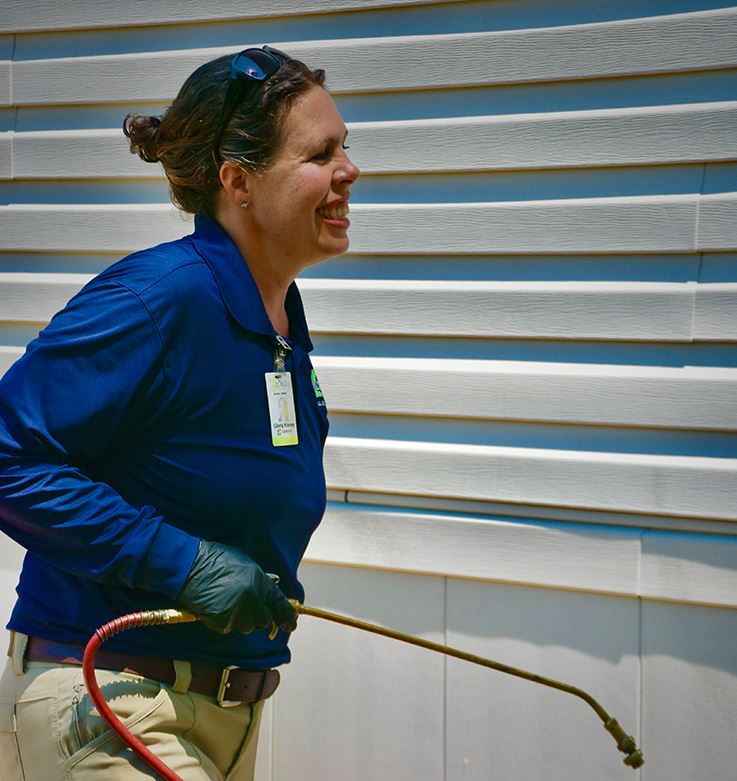 QualityPro Certified
Less than 3% of pest control companies in the U.S. have been awarded the prestigious QualityPro Certification. This certification is given to those who go above and beyond to adhere to the highest standards in professionalism and results in the pest control industry. These companies do whatever it takes to exceed the expectations of their customers and deliver the best possible service.
"#1 company in my book, these guys are upfront honest and extremely professional, I would not take my business anywhere else."

Bradley J.