Bee & Wasp Control in Arkansas
Bee and Wasp Exterminators Protecting Your Property & Loved Ones
Bees, wasps, hornets, and other stinging pests can be challenging to safely get rid of without the intervention of a pest control professional. As territorial and aggressive creatures, they pose a real threat to any people and pets that get too close. What starts as a small nest can quickly turn into a much bigger problem if it isn't addressed as soon as possible.
Some of the most common stinging insects our wasp exterminators encounter are:
Carpenter bees
Bald-faced hornets
European paper wasps
While hornets and wasps live in nests or colonies, carpenter bees inhabit abandoned nest tunnels. They also excavate wood galleries where they raise their young.
Say Goodbye to Stinging Pests!
If you have noticed any stinging insects on your property, our Arkansas bee and wasp pest control experts can help you to remove them. McCauley Services is committed to providing our customers with effective services at fair, honest prices. Whether you're a homeowner or a commercial property manager, we have a customized service program to meet every need.
---
Contact McCauley Services online or at (888) 733-9229 today for a quote!
---
Recommended Reading:
Explore Our Services

Pests We Eliminate
Frequently Asked Questions
Why do I have stinging insects on my property?
There are many reasons why stinging insects invade. Most homes in our area experience problems with these types of pests starting in spring and continuing through the summer months.
Are stinging insects dangerous?
They can be. Male carpenter bees are aggressive by nature but are not capable of stinging. Females are capable of stinging but do so rarely. Stinging insects like hornets and wasps are a nuisance. They will sting and their stings can be painful and may cause mild to severe allergic reactions which can be fatal.
How do I get rid of stinging insects?
Stinging insects can be difficult and dangerous to get rid of. Removal of nests and these pests should be completed by a pest control professional. Contacting McCauley Services at the first sign of a problem is the ideal way to get rid of bees, hornets, and wasps. Our wasp exterminators offer effective stinging insect control in Arkansas that is sure to eradicate the entire pest problem.
Can I get rid of wasps, bees and other stinging insects myself?
Stinging insects can be difficult and dangerous to get rid of. Removal of nests and these pests should be completed by a pest control professional. Contacting McCauley Services at the first sign of a problem is the ideal way to get rid of bees, hornets, and wasps. Professional exterminators for wasps can handle eradication at any phase of the invasion's life cycle.
What kills wasps instantly?
While there are several ways to kill wasps using common household products like vinegar or a spray bottle filled with a dish soap and water mix - these DIY approaches won't kill them on contact. Insecticide sprays, most commonly with pyrethrin, can kill wasps instantly. You'll also want to be sure the insecticide is sprayed in other areas of your home or property to prevent wasps and other stinging insects from building new nests. A pest control expert will know all the common places these insects are mostly likely to hang out.
Insecticide foams are another effective method for eliminating wasps quickly - but this can be dangerous and requires protective gear. You'll need to wear long pants and sleeves and a mosquito net. Stand as far as possible from the nest while spraying the foam to avoid being swarmed.
Is the bee and wasp treatment safe?
Safety is important to McCauley Services. Our wasp exterminators use products and treatments that are EPA registered for pest control use. We only send out registered wasp exterminators who are licensed by the state or local jurisdictions. This ensures proper application and protects our customers, their family, or employees.
How soon can you get here?
When you need an exterminator for wasps, you don't have forever to wait around. At McCauley Services, we make every effort to be with you as soon as possible. In most cases, we can respond on the same or very next day.
How much do bee and wasp control services cost?
Pricing for stinging insect control varies. Our wasp exterminator contracts are customized to meet your needs and expectations so our prices reflect that. When you contact us we may recommend a free inspection. One of our wasp exterminator representatives will investigate your property. Based on that assessment we'll offer treatment recommendations and provide the pricing.
How do I prevent a wasp or bee problem?
Pest problems can be difficult to prevent and that is why you should contact McCauley Services at the first sign of one. Homeowners may consider a year-round home pest control plan for comprehensive pest protection. Our bee and wasp exterminators also offer our Prescribed Commercial Program for commercial facilities.
How to Get Rid of Bees Naturally
If you find yourself dealing with a bee infestation and prefer to handle it in a natural and environmentally friendly way, there are several methods you can employ to get rid of bees without resorting to harmful chemicals. Here are some tips to help you address the issue naturally:
Identify the species: Determine whether you are dealing with honeybees or aggressive species like wasps or hornets. Honeybees are essential pollinators, and their preservation is crucial.
Remove attractants: Bees are attracted to sweet and sugary scents, so make sure to remove or cover food and beverage sources when eating outdoors.
Seal openings: Inspect your home for any openings or gaps where bees can enter. Seal them off to prevent their access.
Relocate the hive: If you discover a bee hive on your property, contact McCauley Services for a bee removal service. Our team can safely relocate the hive without causing harm to the bees.
Plant repellent herbs: Certain plants, such as mint, citronella, and eucalyptus, have natural repellent properties that can deter bees. Consider planting these around your outdoor living areas.
Use vinegar or citrus: Bees dislike the smell of vinegar or citrus. Create a solution of equal parts vinegar and water, or use citrus peels, and spray it in areas where bees are present. However, use caution not to harm the bees.
Create decoy nests: Wasps and aggressive bees are territorial. By placing a fake nest in your yard, you can trick them into thinking it's an occupied territory, deterring them from building nests nearby.
Remember, it is always best to coexist with bees when possible, as they play a vital role in pollination and maintaining ecosystem balance. If their presence poses a threat to safety or becomes unmanageable, it is recommended to seek professional assistance from McCauley's pest control experts who can handle the situation appropriately.
---
Schedule your free estimate when you contact our bee and wasp removal team in Arkansas today at (888) 733-9229. Our wasp exterminators are ready for your call!
---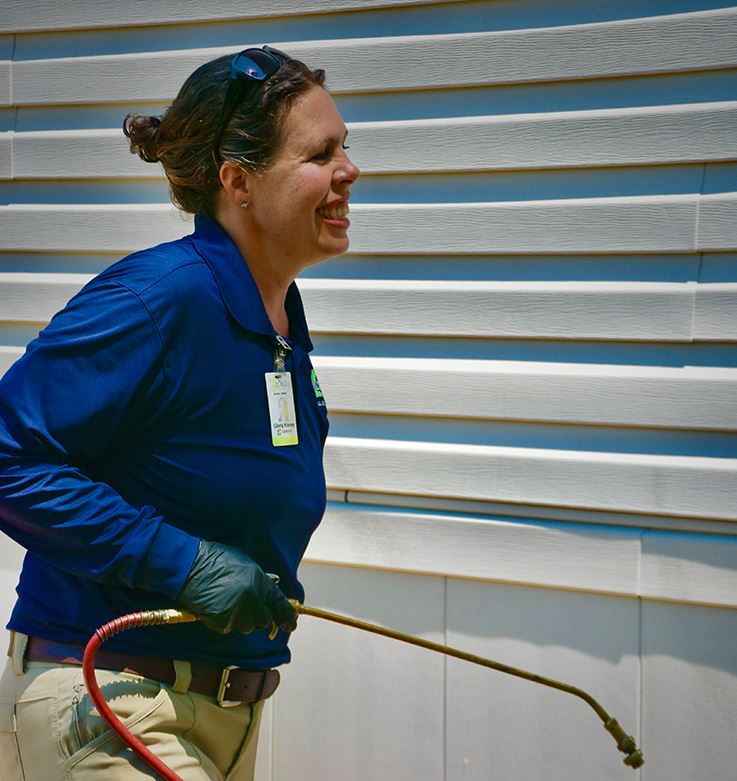 QualityPro Certified
Less than 3% of pest control companies in the U.S. have been awarded the prestigious QualityPro Certification. This certification is given to those who go above and beyond to adhere to the highest standards in professionalism and results in the pest control industry. These companies do whatever it takes to exceed the expectations of their customers and deliver the best possible service.
"Hands-down the best pest control company in Central Arkansas! Whenever I have a need they are there as soon as they possibly can be."

Jon A.