Tick Control Services in Arkansas
Arkansas Tick Exterminator
Ticks are small, oval-shaped insects. They feed on the blood of non-domesticated wildlife such as fox, deer, mice, and raccoons but also on pets and people. Here in Arkansas, our pest professionals often encounter lone star ticks and American dog ticks. Black-legged ticks, also known as deer ticks, are also quite common. Ticks are often found in wooded or overgrown areas as well as in tall grass and shrubs as they wait for a host animal or person.
At McCauley Services we make every effort to be with you as soon as possible. In most cases, we can respond on the same or the next day. Take a look at what our clients have to say about us, and see why we are Arkansas's most trusted tick control team!
When you need Arkansas tick removal services, McCauley Services is here to help. Contact us today!
Tick Diseases in Arkansas
Did you know that in Arkansas, ticks are known to be responsible for more human diseases than any other insect? If you notice ticks in your home or business, it is important to contact a tick control expert as soon as possible to get the situation inspected and properly taken care of. Leaving a tick infestation unnoticed can pose health concerns to you and your loved ones.
Tick-borne diseases in Arkansas include the following, and more:
Lyme Disease
Ehrlichiosis
Anaplasmosis
Rocky Mountain Spotted Fever (RMSF)
Southern Tick Associated Rash Illness (STARI)
Alpha-Gal
Tularemia
Although not all ticks are responsible for transmitting diseases, you should always consult a professional to make sure that the ticks in your home or business are not detrimental to your health.
Types of ticks in Arkansas include:
American Dog Ticks
Blacklegged Ticks
Brown Dog Ticks
Gulf Coast Ticks
Lone Star Ticks
Ticks enter homes and buildings usually on a pet or human host. They are often brought onto your property by native wildlife. Ticks cannot jump or fly but often wait in areas where they are most likely to find a host. Also known as transitional areas or edge habitats, these areas include where fields meet lawns and trails through tall grass or forests.
How Do I Get Rid of Ticks?
Ticks are a difficult pest problem. They find their way onto properties and once there may enter homes on people and pets. If you have ticks, contact McCauley Services for pest control services.
Are ticks dangerous?
Ticks are a serious health concern. They can carry and transmit disease and illness to humans and domestic animals. The black-legged tick is a major vector of Lyme disease in both people and pets.
How do I prevent a tick problem in the future?
It's hard to prevent ticks from crossing onto your property line but here are a couple of tips:
Trim your lawn often
Avoid walking or hiking in tall grasses and stick to paths in the woods
Inspect your clothes and person after spending any time outdoors
Check your family members and pets for ticks
Talk to your vet about tick treatment for pets
Contact McCauley Services at (888) 733-9229 right away if you discover ticks. Our Arkansas tick removal service is fast and thorough.
Explore Our Services

Pests We Eliminate
Is The Treatment For Ticks Safe?
Safety is important to McCauley Services. We use products and treatments that are EPA registered for pest control use. We only send out registered pest control technicians who are licensed by the state or local jurisdictions. This ensures proper application and protects our customers, their family, or employees.
How Much Does Tick Control Cost?
Pricing for tick control varies. Our contracts are customized to meet your needs and expectations so our prices reflect that. When you contact us we may recommend a free inspection. One of our representatives will investigate your property. Based on that assessment we'll offer recommendations for treatment and provide the pricing.
Suggested Reading:
Call us today at (888) 733-9229 or contact us online for tick removal services in Arkansas!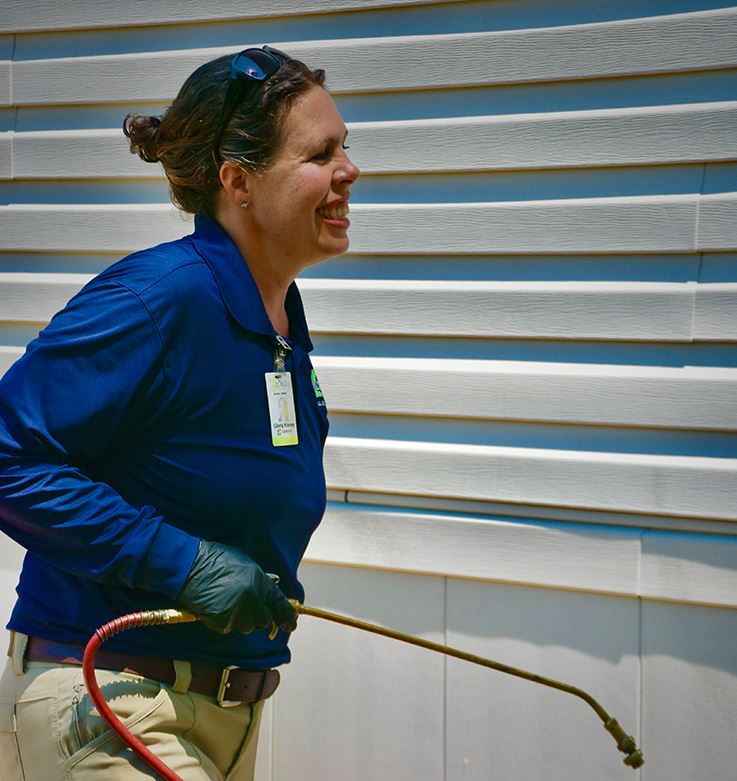 QualityPro Certified
Less than 3% of pest control companies in the U.S. have been awarded the prestigious QualityPro Certification. This certification is given to those who go above and beyond to adhere to the highest standards in professionalism and results in the pest control industry. These companies do whatever it takes to exceed the expectations of their customers and deliver the best possible service.
"Sooooo much better than Terminix, so much more service for the money; and the service people are like family"

Stacey C.