Arkansas Brown Recluse Spider Removal
Expert Spider Control Services
The brown recluse spider is native to Arkansas and ranges in size from ¼ to ¾ of an inch in length. They are light to dark brown in color with a well-known brown violin marking. This distinct characteristic has also resulted in other monikers, including fiddlebacks and violin spiders. The brown recluse has a round body (with eight legs of course) and has three pairs of eyes that form a semi-circle.
At McCauley Services, we understand how stressful and overwhelming it can be when you spot one or more brown recluse spiders on your property. Because of that and the risks associated with spider infestations, we can generally respond the same day you call or the very next day.
---
Call our Arkansas brown recluse spider removal experts today at (888) 733-9229 for prompt help.
---
Explore Our Services

Pests We Eliminate
Frequently Asked Questions About the Brown Recluse Spider
Why do I have brown recluse spiders?
Brown recluse spiders seek out dark, undisturbed areas. Inside the home, ideal places include storage areas, closets, and basements as well as attics and cupboards. If they are hanging around outside your home you will most likely spot them in woodpiles, sheds, and mounds of debris.
Are brown recluse spiders dangerous?
They can be! The venom from a brown recluse spider bite can produce a dangerous reaction. You may experience pain and itching caused by the bite. Ulcerating and necrosis of the tissue affected by the spider bite could also occur; this tissue could take months to heal. You may notice the symptoms from a bite right away or anywhere between 2 and 8 hours after the incident has taken place. Common symptoms from a brown recluse bite include redness and blistering around the site of the bite.
If you suspect you have been bit by a recluse you should see a health care provider right away. If possible bring the spider along for proper identification. The good news is that these arachnids – for the most part – only bite if they feel threatened. If they have been hiding in your shoes or clothes, it is almost certain they will bite when these items are next in use.
How do I get rid of brown recluse spiders?
DIY is very popular these days. But beware, when it comes to venomous brown recluse spiders, do-it-yourself pest control may not be a good idea. Consulting with a pest control professional is the best way to determine the most appropriate and effective course of action for brown recluse spider removal.
Our pest control professionals here at McCauley Services employ various methods to get rid of brown recluse spiders, which may include:
Inspection: We'll start by conducting a thorough inspection to identify the extent of the brown recluse spider infestation, locating entry points, nesting areas, and potential hiding spots.
Treatment: Based on the inspection findings, we'll then apply targeted treatments. This may include the use of residual insecticides that are specifically designed to eliminate brown recluse spiders. We will apply these treatments to cracks, crevices, and other areas where spiders are likely to hide.
Web removal: Our technicians will then remove existing spider webs and egg sacs to reduce the spider population. This helps eliminate the current infestation and discourages new spiders from establishing themselves.
Exclusion measures: Our team may recommend and implement exclusion techniques to seal off entry points and prevent future infestations. We may advise sealing cracks, repairing damaged screens, and installing door sweeps to keep brown recluse spiders out.
Monitoring: Lastly, we may set up monitoring devices, such as sticky traps, to assess the effectiveness of the treatment and to track any new spider activity.
How do I prevent brown recluse spiders from coming back?
To help prevent brown recluse spiders from entering your home, you should:
Identify and locate: Learn to identify brown recluse spiders by their characteristic violin-shaped marking on their back. Locate areas where they are commonly found, such as dark corners, closets, basements, and garages.
Reduce hiding places: Eliminate areas that can provide ideal harborage for these pests. Clear clutter and remove piles of debris, cardboard, or unused items where spiders can hide. Vacuum and clean regularly to eliminate webs and eggs.
Seal entry points: Inspect your home for any gaps or cracks in doors, windows, and walls, and seal them properly to prevent spiders from entering.
Use sticky traps: Place sticky traps in areas where brown recluse spiders are likely to travel. These traps can help capture and monitor their presence.
Declutter outdoors: Trim vegetation near the perimeter of your home, keep the grass short, and remove woodpiles or debris that may attract spiders.
Calling McCauley Services immediately after discovering brown recluse spiders on your property is crucial due to the potential risks they pose. Professional intervention ensures effective removal and minimizes the chances of bites, protecting your health and providing peace of mind.
With us, you can expect:
Free estimates
Same-day service wherever possible
Highly-trained experts
Convenient home protection plans
Contact McCauley Services to learn more about pest control for brown recluse spiders in Arkansas.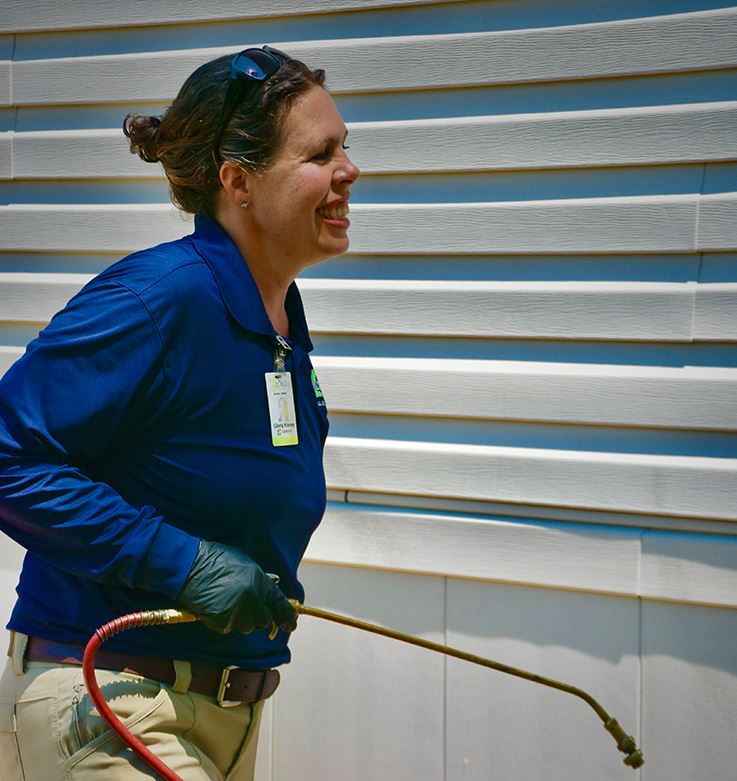 QualityPro Certified
Less than 3% of pest control companies in the U.S. have been awarded the prestigious QualityPro Certification. This certification is given to those who go above and beyond to adhere to the highest standards in professionalism and results in the pest control industry. These companies do whatever it takes to exceed the expectations of their customers and deliver the best possible service.
"#1 company in my book, these guys are upfront honest and extremely professional, I would not take my business anywhere else."

Bradley J.