Arkansas Brown Recluse Spider Removal
Expert Spider Control Services
The brown recluse spider is native to Arkansas and ranges in size from ¼ to ¾ of an inch in length. They are light to dark brown in color with a well-known brown violin marking. This distinct characteristic has also resulted in other monikers including fiddlebacks and violin spiders. The brown recluse has a round body (with eight legs of course) and has three pairs of eyes that form a semi-circle.
Find out more about how our brown recluse spider removal experts can help you. Call us at (888) 733-9229today.
Frequently Asked Questions
How do I get rid of brown recluse spiders?
Brown recluse spiders are elusive creatures by nature. They can be extremely difficult to locate without the help of a professional exterminator. If you fear brown recluse spiders are in your home or business, contact the Arkansas pest control pros at McCauley today!
Can I do it myself?
DIY is very popular these days. But beware, when it comes to pest control, it may not be a good idea. Do-it-yourself sprays and treatments as well as home remedies such as gasoline or bleach are not effective in resolving ant problems. They may contain ingredients or chemicals that are harmful to people and pets. McCauley Services' trained pest control professionals will identify ant infestations and foraging trails. They can also find the location of the colony, which may be far away from your homes' structure. After a careful evaluation of your ant problem, our technicians will implement effective measures to control and prevent future ant problems.
Is the treatment safe?
The health and safety of you and your family is something we take seriously. All our products are EPA registered for pest control use. Each of our skilled pest control professionals are licensed and registered by the state and local jurisdictions. This ensures that the proper application of pest control methods occurs to eradicate pest problems.
How soon can you get here?
At McCauley Services, we understand how stressful and overwhelming it can be when you spot brown recluse spiders. Because of that and the risks associated with pest infestations, we can generally respond that same day or the very next.
How much do services cost?
With plans that are customizable to fit your unique needs, prices will vary. When you contact our office we can provide you a general price range. For many pests, we recommend a free inspection. One of our representatives will thoroughly investigate your concerns, give you our recommendation for treatment and pricing information for the service.
Explore Our Services

Pests We Eliminate
Why do I have brown recluse spiders?
Brown recluse spiders seek out dark, undisturbed areas. Inside the home, ideal places include storage areas, closets, and basements as well as attics and cupboards. If they are hanging around outside your home you will most likely spot them in woodpiles, sheds, and mounds of debris.
Are brown recluse spiders dangerous?
They can be! The venom from a brown recluse spider bite can produce a dangerous reaction. You may experience pain and itching caused by the bite. Ulcerating and necrosis of the tissue affected by the spider bite could also occur; this tissue could take months to heal. You may notice the symptoms from a bite right away or anywhere between 2 and 8 hours after the incident has taken place. Common symptoms from a brown recluse bite include redness and blistering around the site of the bite. If you suspect you have been bit by a recluse you should see a health care provider right away. If possible bring the spider along for proper identification. The good news is that these arachnids – for the most part – only bite if they feel threatened. If they have been hiding in your shoes or clothes it is almost certain they will bite when these items are next in use.
How do I prevent them from coming back?
To try and help prevent brown recluse spiders from entering your home you should:
Eliminate areas that can provide ideal harborage for these pests
Remove clutter from basements, cupboards, and even closets
To avoid spider bites, you should always try and shake out clothes and shoes before using them
Keeping a watchful eye out for these pests can also help with early detection and treatment.
Contact McCauley Services to learn more about pest control for brown recluse spiders in Arkansas.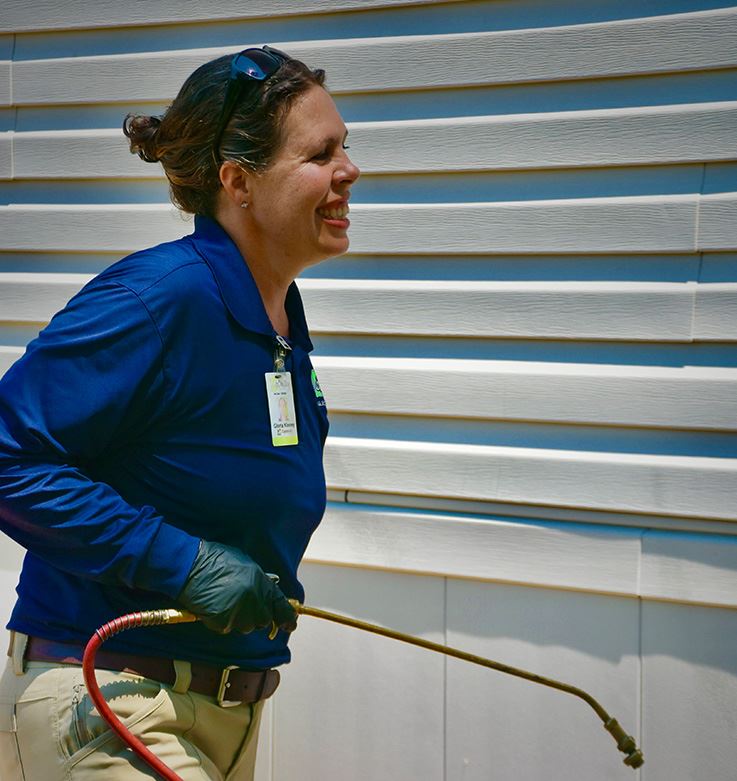 QualityPro Certified
Less than 3% of pest control companies in the U.S. have been awarded the prestigious QualityPro Certification. This certification is given to those who go above and beyond to adhere to the highest standards in professionalism and results in the pest control industry. These companies do whatever it takes to exceed the expectations of their customers and deliver the best possible service.
"Technicians are thorough and listen to your concerns and address them while explaining what they're doing."

Jeff L.