Arkansas Wildlife Control Services
Protecting Your Property from Unwanted Critters
Wildlife is encroaching on urban and suburban areas more often as their natural habitats are becoming developed. They must search out food and shelter elsewhere, and unfortunately, they often find it in backyards, attics, and other areas where they shouldn't be. While they may not look very threatening, wildlife can cause a number of serious problems, including expensive property damage, so an infestation should be dealt with as soon as possible.
Wildlife that commonly interferes with homes and businesses in Arkansas include:
Raccoons
Squirrels
Feral cats
Skunks
If you're dealing with animal intrusion on your property, turn to our Arkansas wildlife control experts for help safely and humanely relocating unwanted critters. We're proud to be a Quality Pro Certified pest control company, a distinction granted to less than 3% of pest control companies in the United States. You can count on our team to adhere to the highest standards of professionalism and ethics in solving your critter problem.
Call McCauley Services at (888) 733-9229 today to begin.
Explore Our Services

Pests We Eliminate
How do I get rid of raccoons or other wildlife?
Getting rid of raccoons or other types of wildlife can be a difficult and dangerous task. It is one best left to experienced professionals. Contacting McCauley Services is the ideal way to resolve your wildlife problem. We offer wildlife removal and trapping services in Little Rock and throughout Arkansas.
Can I remove wildlife from my property by myself?
Evicting wildlife on your own is difficult and may be dangerous. Our trained Arkansas wildlife control professionals will identify wildlife problems and conditions that promote them. We'll implement effective measures to remove any existing wildlife
Are your wildlife control treatments safe?
Safety is important to McCauley Services. We use products and treatments that are EPA registered for pest control use. We only send out registered pest control technicians who are licensed by the state or local jurisdictions. This ensures proper application and protects our customers, their family, or employees.
How soon can you get here?
At McCauley Services, we make every effort to be with you as soon as possible. In most cases, we can respond on the same or very next day.
How much do your wildlife control services cost?
Pricing for wildlife control varies. Our contracts are customized to meet your needs and expectations so our prices reflect that. When you contact us we may recommend a free inspection. One of our representatives will investigate your property. Based on that assessment, we'll offer recommendations for treatment and provide the pricing.
Why is wildlife hanging around my property?
Wild animals are attracted to your property for the potential food sources and shelter it provides. Pet food, outside trash cans, and gardens are all potential food sources for raccoons and other wild animals. Attics, chimneys, sheds, and other outbuildings are ideal spots for nesting and overwintering.
Is wildlife dangerous?
Wild animals are carriers of many serious diseases and those infected can pass on rabies. They also introduce fleas, ticks, and other parasites onto your property as well as larger predators. Wildlife can cause serious property damage and be quite aggressive when threatened.
How do I prevent a wildlife problem in the future?
Wildlife problems can be difficult to prevent. Contacting McCauley Services at the first sign of a problem is an effective way to keep your property free of raccoons and other wildlife.
Contact our Arkansas wildlife control team today to schedule your free estimate.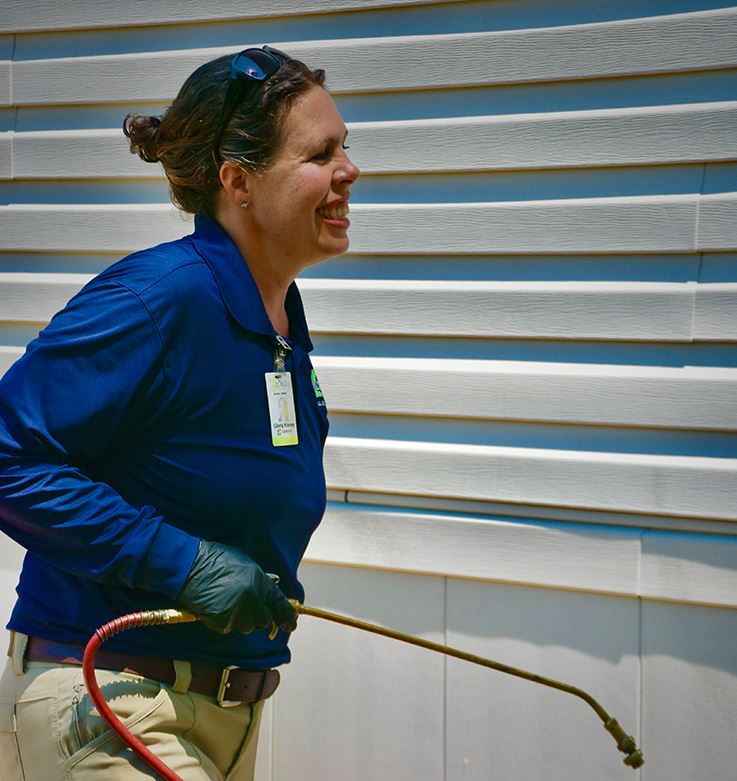 QualityPro Certified
Less than 3% of pest control companies in the U.S. have been awarded the prestigious QualityPro Certification. This certification is given to those who go above and beyond to adhere to the highest standards in professionalism and results in the pest control industry. These companies do whatever it takes to exceed the expectations of their customers and deliver the best possible service.
"We had a huge problem with ants. Not only did McCauley Services take care of the problem, but they also took care of wasps that had been a nuisance"

Amanda F.