Professional Rodent Control in Arkansas
Safely Removing Rodents from Homes & Businesses in Arkansas
McCauley Services is here to protect what matters most to you. If your home or business has become infested with rodents, our team is here to provide swift, effective service. We are in the business of eliminating rodents, providing year-round protection for your property, and educating you on how to best prevent future invasions from taking place.
Living in Arkansas, professional rodent control is something you may have to face at some point - and the best way to prevent it is by understanding why rodents come in the first place. Rodents are attracted to warm, safe places for shelter, nesting, and collecting food and water. Homes and businesses are ideal for them because they provide those resources. Each season brings different types of rodents; spring offers an abundance of mice and moles, while fall brings an influx of rats, squirrels, chipmunks, and more. Trusting our professionals at McCauly Services and our knowledge of when certain breeds appear can be your best defense against these furry intruders.
No rodent problem is either too big or too small for us to handle. Whether you need help identifying a rodent problem, or need to eliminate mice or rats from your property, you can turn to us for guaranteed results. Take a look at what our customers have to say about us and see why we are Arkansas's most trusted rodent control company.
Contact us online or call (888) 733-9229 today for rodent control services that you can count on!
Explore Our Services

Pests We Eliminate
Mice and rats can be quite dangerous for a few reasons. First, they are known to contaminate food products that they come across by spreading bacteria and leaving behind urine and droppings. Second, rodents such as rats are also known to cause a lot of damage to properties around the country. They often chew through exposed wires, which can trigger a fire. Third, rodents are known carriers of diseases that they can transmit to humans through their saliva. Third, rodents often are infested with other disease-carrying pests such as ticks and fleas. The disease-carrying pests into a home or business may pose serious health concerns.
Rodents can indirectly transmit the following diseases, and more:
Hantavirus
Salmonellosis
Lyme disease
Tularemia
Typhus
Babesiosis
If you notice a rodent infestation in your home, it is important to contact a rodent control professional as soon as possible to get the situation inspected and properly taken care of.
Signs of a Rodent Problem
The key to minimizing damage caused by rodents is being able to identify an infestation early on. Unfortunately, rodents are extremely good at avoiding contact with humans, which means that you will need to become familiar with other signs of an infestation.
You probably have a rodent problem if:
There are droppings under sinks, in drawers, around pantries, or near food sources
You discover nests made of grass, leaves, paper, or trash
There are holes chewed through floors or walls
You can hear scampering or tapping sounds behind your walls or in your attic
Your dogs are acting erratic and staring or barking at walls, cabinets, or the attic
How to Get Rid of Rodents
DIY rodent traps, sprays, poison, and other products are often ineffective and dangerous to your family and pets when used improperly. Hiring a professional rodent control team is the best way to treat your infestation. At McCauley Services, our Arkansas rodent control specialists don't just provide a quick fix that involves harsh chemicals. Instead, we always implement the safest, most effective, and environmentally friendly solution.
How to Prevent Rodents
The last thing you want to deal with is a rodent infestation. Luckily, there are a few things you can do to keep rodents away from your property.
To prevent rodents, you need to:
Seal all entry points such as cracks or holes in your foundation, holes in your screens, or missing shingles on your roof
Make sure your garbage has a sealed lid
Keep your compost covered at all times
Keep your property clean by taking care of spills, crumbs, and dirty dishes right away
Store food in airtight containers
Call McCauley Services Today!
Hiring a team of trained professionals is the only way to ensure your rodent problem is properly treated. At McCauley Services, our highly trained pest control experts are backed by nearly 40 years of service experience. Our Arkansas rodent control specialists are skilled at locating the source of an infestation, properly identifying rodents, and implementing the best possible solution. Because your safety is our top priority, we use EPA-approved products that are proven effective at treating rodent infestations while keeping you, your family, and your beloved pets safe.
To learn more about our year-round, season-based home protection plans, click here. To learn more about our year-round, season-based business protection plans, click here.
Call (888) 733-9229 or contact us online to get started.
Benefits of Professional Rodent Control
Pest control services can guarantee the elimination of pests on your property. Hiring a professional rodent control company takes care of rodent problems that DIY tactics are not able to.
Some benefits that come with hiring professionals to get rid of rodents in your home include the following:
Visible and guaranteed results: Professionals are trained to tackle the source of the problem, so you can rest assured that these pests will be properly removed from your home or business once and for all
Safe and efficient procedures: Using great amounts of pesticides may pose health concerns to you, your family, and your neighbors. Our licensed professionals know exactly how much pesticide to use to safely remove rodents from your property.
Better lifestyle: Rats and mice can negatively impact the day-to-day lives of you, your family members, or your employees. With professional rodent control, you can say goodbye to these noisy critters one and for all.
Prevent further damage: Professional rodent control experts can help to prevent costly damages to your home by properly eliminating the pests.
Suggested Reading:
---
For professional, reliable rodent control in Arkansas, fill out our online form or call (888) 733-9229 today.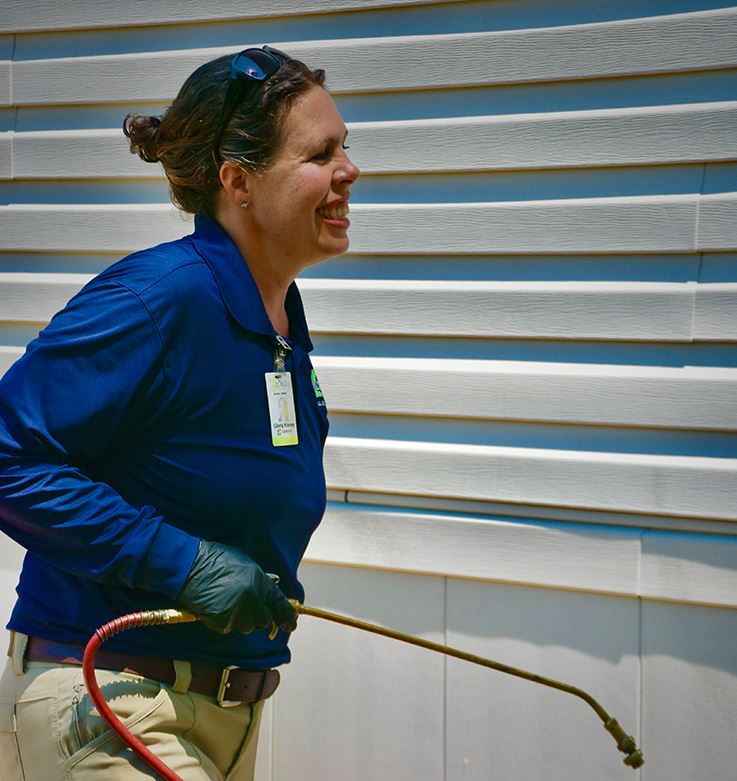 QualityPro Certified
Less than 3% of pest control companies in the U.S. have been awarded the prestigious QualityPro Certification. This certification is given to those who go above and beyond to adhere to the highest standards in professionalism and results in the pest control industry. These companies do whatever it takes to exceed the expectations of their customers and deliver the best possible service.
"Not one single complaint about this company!! A five star operation that truly cares about taking great care of your business!"

The Corner D.