Odorous Ants in Arkansas
Effective Pest Control for Odorous House Ants
At McCauley Services, we understand how frustrating it can be to deal with odorous ants in and around your property. These tiny pests are known for emitting a strong, unpleasant odor when they feel threatened, making them a nuisance to have around.

Our team of pest control specialists are equipped with the knowledge and tools necessary to effectively eliminate odorous ants from your property. We use a variety of proven ant control methods, including baiting and barrier treatments, to ensure that these pests are gone for good.
Explore Our Services

Pests We Eliminate
What Do Odorous Ants Smell Like?
Odorous ants, as their name implies, are known for the distinctive, unpleasant odor they emit when crushed or threatened. This scent is often described as similar to the smell of rotten coconuts, and it is this peculiar characteristic that gives these ants their name. Despite their off-putting aroma, odorous ants are generally harmless and pose more of a nuisance than a threat.
How Can I Tell If I Have Odorous Ants in My House?
If you suspect an odorous ant infestation in your house, there are a few telltale signs to look for. First, observe any ants you encounter closely; odorous ants are small - about 1/8 inch long - and brown or black in color. Secondly, watch their behavior. Odorous ants are particularly drawn to sweet substances, so they are often found in kitchens or areas where food is kept. They typically follow well-defined trails, which can help you identify areas of infestation. Finally, the most definitive test: crush one. If it releases a rotten coconut-like smell, you can be fairly certain you're dealing with odorous ants.
How to Get Rid of Odorous House Ants
Getting rid of odorous ants can be a very tough undertaking without the right tools and experience. While you may be able to eliminate some ants on their own, it can be incredibly difficult to get rid of them all since ant colonies can be extremely large. The best thing to do to tackle an odorous ant infestation is to call in a pest control professional from McCauley Services.
Our Odorous Ants Service includes:
Inspection: Our team will thoroughly inspect your property to identify areas where odorous ants may be present.
Treatment: We will use a combination of baiting and barrier treatments to eliminate odorous ants from your property.
Prevention: We will provide recommendations to help prevent future infestations, such as sealing cracks and crevices in your home.
Follow-up: We will follow-up with you to ensure that the treatment has been effective and to address any remaining concerns.
At McCauley Services, we pride ourselves on providing effective and affordable pest control solutions. Don't let odorous ants take over your property—contact us today to schedule your odorous ants removal service!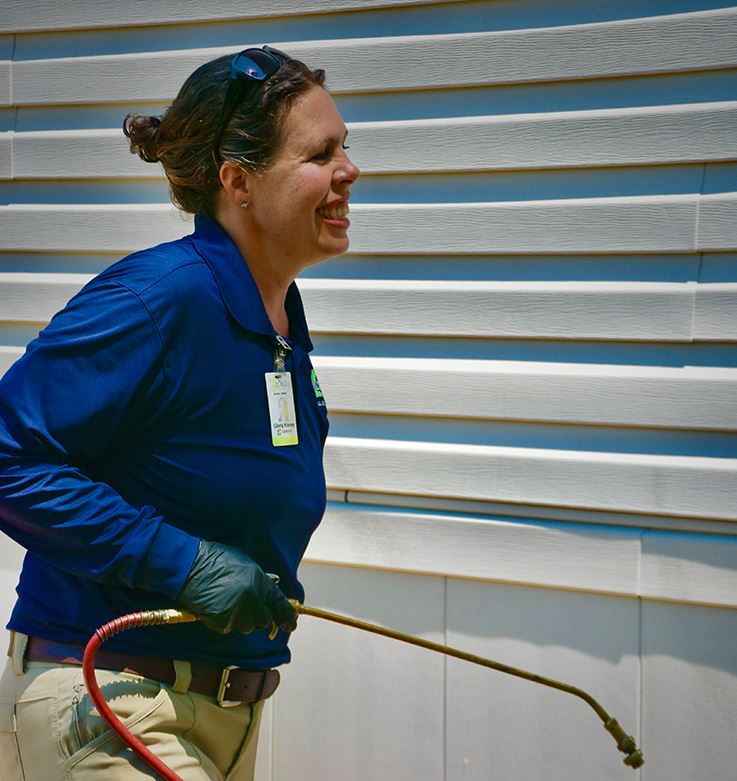 QualityPro Certified
Less than 3% of pest control companies in the U.S. have been awarded the prestigious QualityPro Certification. This certification is given to those who go above and beyond to adhere to the highest standards in professionalism and results in the pest control industry. These companies do whatever it takes to exceed the expectations of their customers and deliver the best possible service.
"Technicians are thorough and listen to your concerns and address them while explaining what they're doing."

Jeff L.