Arkansas Termite Control Services
Arkansas Commercial & Residential Termite Control
Feeding on wooden structures and other cellulose materials, termites cause approximately $5 billion worth of property damage. These insects live in colonies with as many as 2 million inhabitants, making them every home and business owner's worst nightmare. At McCauley Services, our exterminators offer the most reliable and thorough termite control in Arkansas. Whether you need to treat an existing infestation or you would like us to correct the conditions that will lead to an infestation, we've got you covered.
No termite problem is either too big or too small for us to handle. We take pride in being the leader when it comes to termite services in Arkansas and beyond. If you are looking for termite treatment services that truly work, you can trust us. Take a look at what our clients have to say about us and see why we are Arkansas's most trusted team of termite control exterminators!
---
Give us a call at (888) 733-9229 to learn more about how our exterminators can serve you.
---
Signs You Have a Termite Infestation
Are you wondering whether you have a termite infestation in your home or business? There are a couple of signs that you can look out for that will help you determine whether you need immediate termite control services.
Some signs to look out for include the following:
Mud tubes
Flying termites (swarmers)
Termite wings
Termite droppings
Blisters in wood flooring
Damaged or hollowed wood
Quiet clicking sounds coming from your walls
Seeing termites (they look like white ants)
Your windows or doors feel harder to open than usual
If you notice any of these signs, it's important to contact a termite control exterminator as soon as possible. Leaving a termite infestation unnoticed can lead to further damage in your home or business, and may lead to the multiplication of termites. Did you know that termites in your home or business may also lead to allergic reactions? Although termites are not known to carry any harmful diseases, getting rid of these pests is important for ensuring healthy indoor air quality.
Explore Our Services

Pests We Eliminate
What Does A Termite Look Like?
Are you wondering what termites actually look like? If you are trying to identify whether or not you have a termite infestation in your home, there are a couple of things to consider. Home or business owners typically confuse termites with ants, so knowing the key differences is important for identifying whether you are dealing with a termite problem.
Termites VS. Ants:
Termites have thick waits, whereas ants have thin waists
Termites have straight antennas whereas ants have bent antennas
Termites have short legs, whereas ants have noticeably longer legs
Termites have wings of equal lengths, whereas ants have wings that are longer in the front than in the back
Our team of termite exterminators at McCauley Services have years of combined experience, and can thoroughly provide you with a professional termite inspection before treating termites in your home or business.
The main types of termites include the following:
Subterranean Termites
Formosan Termites
Dampwood Termites
Drywood Termites
Conehead Termites
---
If you think that you have termites in your commercial or residential space, our team of termite control exterminators can help. Contact us today to learn more about our termite exterminating services!
---
Suggested Reading:
How to Prevent Termites in Arkansas
Termites feed on cellulose from wood, leaves, soil, and dung, so most properties provide exactly what they need. And, while termites themselves don't pose any real danger to you, they can cause a massive amount of damage to your property, so you will want to do whatever you can to keep them away.
To prevent termites, you should:
Ditch the mulch and use pine needles instead
Keep any piles of wood at least 20 feet away from your home or business
Repair leaky pipes right away
Remove leave debris, dead foliage, and rotting wood from your yard
Properly ventilate your crawlspace
Trim any tree branches that extend all the way to your home or business
Schedule regular termite control
The best way to prevent an infestation on your property is to bring in a team of experts who can apply professional-grade treatment to keep termites away.
---
Give us a call at (888) 733-9229 to learn more about how we can serve you.
---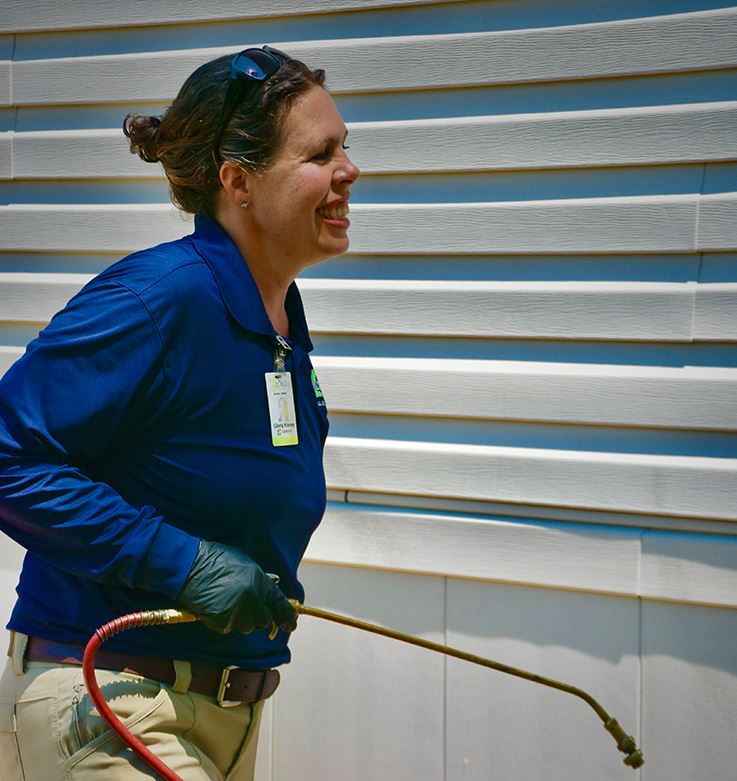 QualityPro Certified
Less than 3% of pest control companies in the U.S. have been awarded the prestigious QualityPro Certification. This certification is given to those who go above and beyond to adhere to the highest standards in professionalism and results in the pest control industry. These companies do whatever it takes to exceed the expectations of their customers and deliver the best possible service.
"Everything was great. The guy that was last there went above and beyond what I'm used to. Thanks again."

Bridgette C.